After a long layoff, I have continued construction on the N-scale CSX Dixie Line layout. First off, just for fun I photographed some new purchases that I recently made:
The locomotive is the brand new Atlas Dash 8-40CW lettered and numbered for Conrail #6150. I'll eventually patch this out for CSX when I get some spare time over the next decade or so. The N-scale community has been grumbling about poor quality control and the high price of this model, but I think it looks and runs great even though I have a few tweaks to make. This locomotive is very expensive (street price of about $120 for the DCC version I purchased), but I wanted to try out the new NCE decoder equipped loco with operating ditch lights. Like I said this is a great model, but at this price, I won't be stocking up anytime soon. The two Union Pacific autoracks were picked up to beef up my vehicle train roster, along with a set of Kato BNSF doublestack cars & containers (not shown).
Now to the layout progress...
I lowered a section of front board near the south end of the Emerson siding to accommodate the I-75 underpass. The scenery will drop down here to accommodate the interstate and the bridge will be built in place around the existing roadbed:
Next, I cut some end panels out of some leftover 1/8" hardboard and painted them the same shade of light sky blue used on the backdrop:
These end panels serve as scene dividers that separate the visible areas from the hidden areas of the layout. They will eventually be secured to the benchwork using Velcro so that they can easily be removed to allow for photography. The following three photos show the southernmost visible area of the layout before and after the end panels have been installed, along with a clearance check for high and wide equipment:
Here are the same three photos, but this time showing where the Emerson area of the layout adjoins the dropdown gate: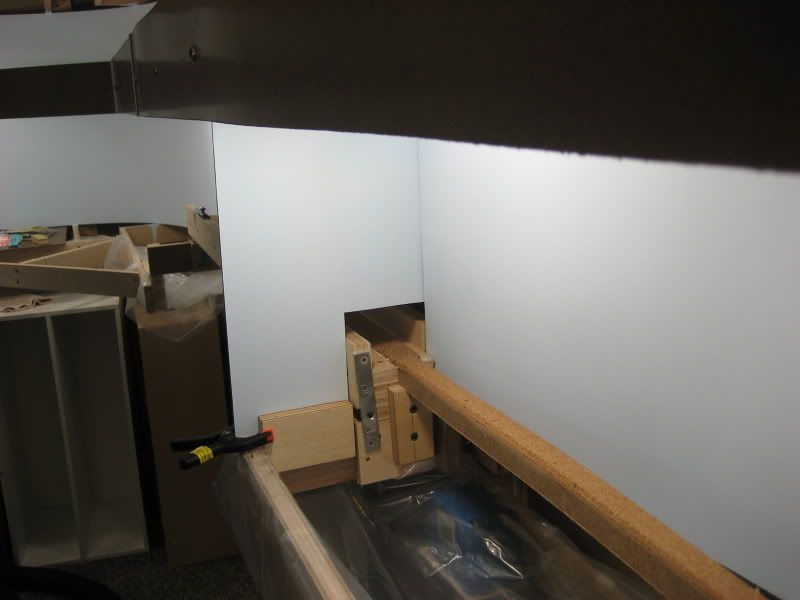 Finally, a wide view of the Emerson area showing both end panels in place: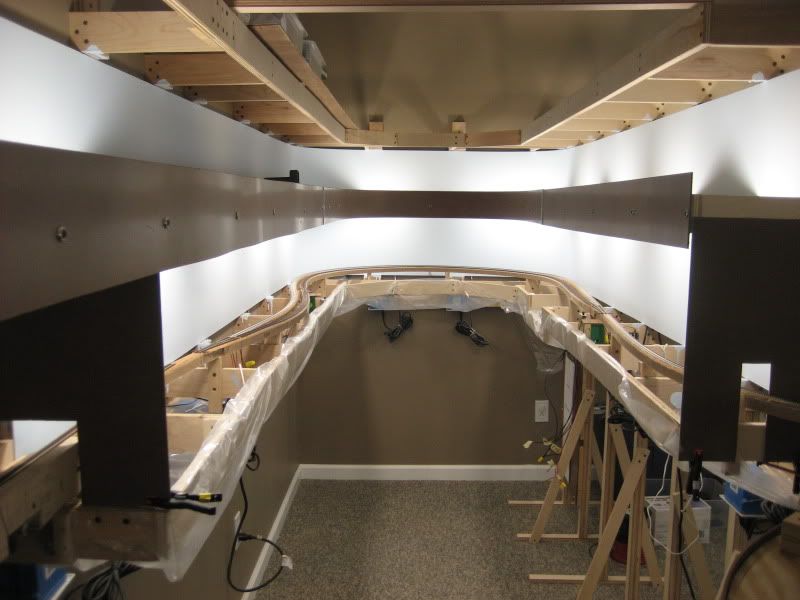 .