Happy New Year!
As we start a new year and a new decade, I have completed the second week (out of eight total weeks) of the
Second Annual International Winter Layout Party
on
TrainBoard
. Progress continues on the Emerson, GA scene of the layout as shown in the series of photos below.
» Photos
The mainline and the siding cross I-75 just south of the town of Emerson. Some additional framing had to be completed to support the bridge, highway and any surrounding scenery. I used some scraps of 1" x 3" boards and a small section of 1/8" hardboard to do the trick:
The following photo shows how a small piece of 3/4" blue foam board will be used to support the highway. Using the foam will allow me to easily carve features such as the road profile and drainage ditches into the terrain. The actual highway surface will probably be constructed using sheet styrene cut to size. I have mocked up the scene using construction paper for the highway and added a few vehicles to verify the bridge clearance is appropriate. Notice how the cardboard web will be extended right down to the shoulders of the highway: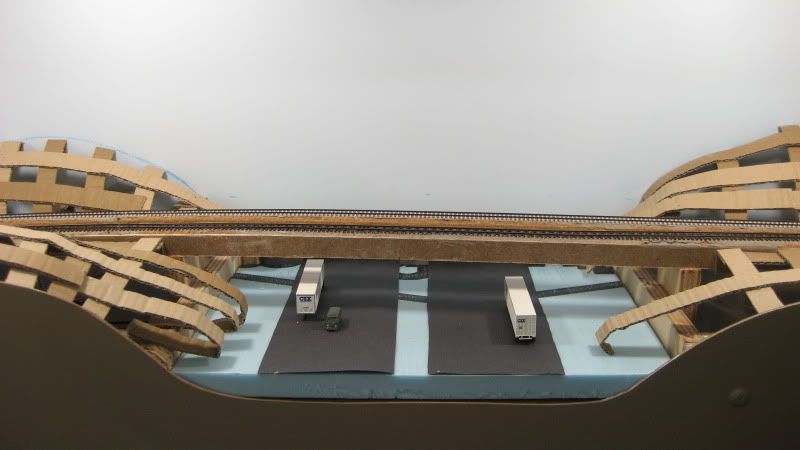 The cardboard web has been extended around the turnback curve at the end of the aisle. The elevated track roadbed and the cardboard web make it easy to build terrain that drops well below track level as you can see in this photo:
Here is an overall view of the entire Emerson scene showing all work completed so far. I have used the framing of the upper deck to support a gallery of prototype photos that will help guide me in reproducing this scene as faithfully as possible: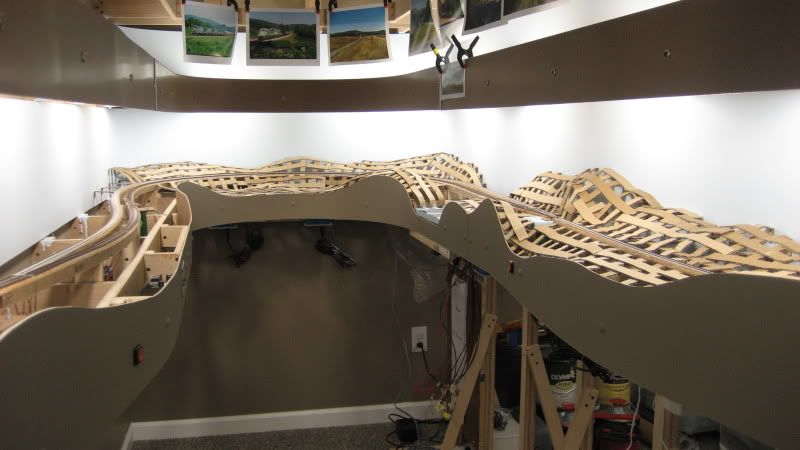 Finally, this last photo shows a simple Digitrax UP5 panel that I installed and wired this past week:
While this is an an insignificant detail on the surface, it has great meaning to me because I have seen these in use on so many layouts over the years and I can't believe I finally have one of my own. It was a very good feeling the first time I plugged in a throttle and ran a train.
.